Born in New York in 1894, Handman came of age touring in vaudeville and playing piano for soldier shows in the First World War. He then hit Tin Pan Alley, where he was a song plugger for Irving Berlin and an accompanist to vaudeville star Marion Harris. Shortly thereafter, he began writing his own songs, creating a string of hits that would be sung and performed by the most important radio and recording artists of the time. Songs like "Me and the Moon," "No Nothing," "Was it Rain," "Blue and Broken Hearted," and his biggest hit "Are You Lonesome Tonight?" filled the airwaves and the dance halls of the era.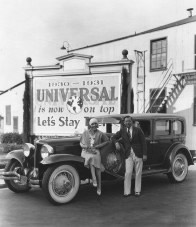 He wrote the songs, Florrie did the driving
In 1930, Handman came to Hollywood with his wife, vaudeville star Florrie Le Vere. He wrote music at Universal Studios and Republic Pictures for such hits as "All Quiet on the Western Front," "A Star is Born," and "The Hit Parade." Works of more recent vintage featuring Handman songs include the films "Babe: Pig in the City," "The Great Gatsby," "Honeymoon in Vegas," "The Front Page," and "Look Who's Talking Too," as well as television's "The Sopranos."
Handman died in 1956. In 1975, he was posthumously inducted into the Songwriters Hall of Fame, where his name sits proudly between Oscar Hammerstein II and W.C. Handy.
In 1960, Elvis Presley covered "Are You Lonesome Tonight?" - a song that has endured for more than 75 years.